Countdown Sale!
Special Offer
Oh wonderful Christmas time!
We would like to sweeten the pre-Christmas season with a sale.
With the code COUNTDOWN you save 24% on December 1st
- one percent less every day until 24 December.
To the shop.

Background
Today women, by conviction, take on responsibility for themselves both at work and in their private lives. Self-determination over their own body and thus the preferred family planning method have become increasingly important to them.
Method
LADY-COMP®/pearly® use a top-notch evaluation program to identify the six days where a woman can likely become pregnant: five days before ovulation, plus the day of ovulation itself. They act as your personal fertility expert and will know your cycle characteristics better than anyone else. They record, analyse, and store your cycle curve. Errors can be ruled out since the intelligent LADY-COMP® software monitors the measurement process and identifies errors on the spot. To evaluate your data, your cycle computer will use an evaluation process that was tested on several million cycles and continuously developed further over more than 30 years. This means that our cycle computers already come with a valuable database for general use. What they need to know about your individual cycle in particular will be calculated based on the daily measurements. They will ensure that you get your individual analyses and forecasts for yourself, with a very high accuracy on green days. It is this unmatched precision that has made LADY-COMP®/pearly® one of the world's leading cycle computer brands.
Good to know: The fertile days will be determined with more and more precision with every cycle. For as long as LADY-COMP®/pearly® is unable to assess your cycle with a reliability of 100%, it will display more fertile (or yellow) days for safety reasons.
Operation
Working with LADY-COMP®/pearly® is incredibly easy: just measure your basal body temperature in the morning after waking up – before any physical effort – for approx. 1 minute under your tongue. You may still be dozing at this point, as the computer will read your temperature automatically and give a signal when the measurement is finished. You have six hours time window for measurement, but no more. When you have your days, you will have to press an additional button. That's all. LADY-COMP®/pearly® shows you immediately whether you are fertile or not in the next 24 hours: a "green light" means "infertile", a "red light" means "fertile." "Yellow" stands for "learning" and may come up at the beginning of application, or if you have not been using the device for a longer time.
Before you begin, you may input some basic data into the LADY-COMP®: your name, age, height, and weight. The computer will then immediately calculate your BMI or Body Mass Index.
After three months of continuous data input, LADY-COMP® will allow you to read out your data from our website. LADY-COMP® is compatible with computers and operating systems of all kinds, as long as they work with USB. For a sample cycle record see here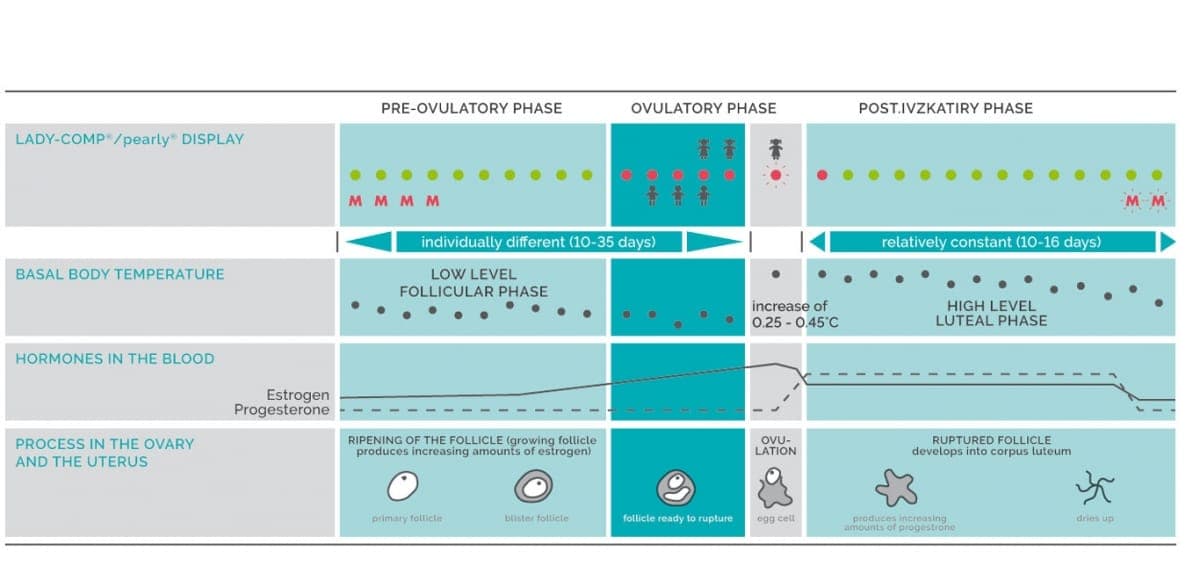 This grafic refers to the fact that women can only become pregnant on 6 days a month rather than to the display behaviour of the device.
Cycle monitoring powered by LADY-COMP®/pearly® is:
User-friendly
Only approx. one minute per day, in the morning, still lying in bed.
Accurate
Very high accuracy on green days. Right from day 1 of using the device.
Healthy
No medical interventions, no medicine intake, no side effects, in full harmony with your body.
Functions
Clock
Calendar
Alarm (to set individually, including mute function)
BMI calculator
Calendar with menstruation forecast (6 months)
Cycle statistics (available after 3 months of regular data input)
Personal data input
Data output to PC via USB-mini cable
These functions are not available on all devices. To find out about the functions of each model, go to our product list
Optional functions of LADY-COMP® baby
Identify fertility barriers
If you have difficulties getting pregnant, LADY-COMP® baby will supply you with extensive statistical data in order to find out about the reasons and facilitate diagnosis. It can detect irregular or missing ovulation, luteal phase weakness etc. to help you enable pregnancy.
Display pregnancy
From day 4 or 5 onward, LADY-COMP® baby will display a possible pregnancy. This allows you to avoid alcohol, tobacco, and medicine intake as early as possible.
Display conception date
LADY-COMP® baby can tell you exactly the day "when it happened".
The birth date
If you enter the date of intercourse, LADY-COMP® baby will exactly determine the conception date. The conception date will then be used to calculate the expected birth date. A great thing to have, for the usual method of determining the pregnancy phase (calculated based on the first day of the last period) is rather inexact.
Pregnancy monitoring
After the pregnancy diagnose, it might be useful to continue measurements for 6 to 12 weeks in order to monitor the early pregnancy phase.
Gender prognosis
It has been hypothesized that the gender of a child depends, among other things, on the moment of intercourse that was relevant for fertilization, either on the day of ovulation or on the day before. LADY-COMP® can only calculate an increased likelihood, albeit not an accurate gender forecast.
Application after birth
For physiological reasons, a woman may be infertile during the first weeks after giving birth. If you continue to use LADY-COMP®, it will detect the reawakening of fertility before you will notice it yourself. From the first period after giving birth, you may use your LADY-COMP® again for tracking your fertility status. LADY-COMP® baby has stored all your data and can take up its function immediately.


Technical data
Device ID (for icons see User Instructions):
Manufacturer – VE Valley Electronics GmbH
Application type BF
Power supply 1.2 V – 1.5 V
Do not dispose of with household waste
See enclosed documentation
Protection against foreign bodies: up to finger size
Water protection: water drops falling slantwise
Product safety in accordance with European regulations
Battery: two AAA batteries or AAA rechargeable batteries
-> Electromagnetic compatibility
Quality
The quality standard of all business procedures at VE Valley Electronics GmbH is regularly audited by internal and external experts. A specialist and leading manufacturer of cycle computers, we are committed to intense R&D work. Our products are regularly revised and updated.
All plastics used in devices have been tested for biological compatibility and fulfil the demands after German Institute for Standardization EN ISO 10993-1; EN ISO 10993-5 and ENISO 10993-18
Worth knowing
What experts say about LADY-COMP®/pearly®
Dr. Andreas Marx, 2014:
"A temperature sensor with high measurement accuracy and temperature analysis based on highly precise algorithms, both mean high method accuracy. Users can be sure it is significantly higher than for competition products. … The devices are easy and simple to use; all important information for a correct use is comprehensibly described in the user instructions. … The aforementioned cycle computers from Valley Electronics enable family planning based on the natural family planning method (NFP). The benefit of the device evidently lies in the planning method that is free from side effects."
ClevaMed, Dr. med. Marx, Babenhausen
Ready to start?
You may start natural cycle monitoring at any time – no matter how old you are, how irregular your cycle is. It will immediately and accurately display your fertile days. Get your LADY-COMP®/pearly® going by following the user instructions. Should you be using hormones for contraception, e.g. a hormone spiral, the Nuva ring or the pill, you should discontinue that use, as hormone contraception distorts your cycle. As soon as the LADY-COMP®/pearly® has woken you up, put the sensor under your tongue for approx. 60 seconds and wait for the "done" signal. The computer will then automatically save your temperature and display your fertility immediately after measurement. Should you be menstruating, inform the computer with a click. And that's it really.

How it works
LADY-COMP®/pearly® is very easy to use. Simply put the sensor of the device under your tongue for approx. 60 seconds every morning after waking up. Based on your daily wake-up temperature and your menstruation inputs, the cycle computer reliably computes your fertile days 5 days before and on the day of ovulation. A quick glance will suffice: "green" shows you that you are not fertile, and "red" when you are. Yellow days show cycle variations and/or the learning phase of the computer. To analyse your cycle history, please register with www.LADY-COMP.de and print out your personal records. You will see: natural cycle monitoring feels good, and it is great to learn more about yourself.